IHOP flips for 9-year-old cancer survivor Starla Chapman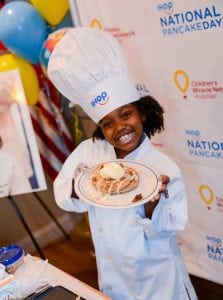 We couldn't be more proud of Starla Chapman, a 9-year-old former patient who beat cancer, who has been named Head Chef of IHOP's Kid Culinary Team! She was welcomed home with a party at IHOP where she was surprised by former Alabama Crimson Tide quarterback AJ McCarron and his mom, Dee Dee Bonner.
See more of the story by clicking on our partner links below.
http://www.al.com/living/index.ssf/2018/03/ihop_flips_for_9-year-old_canc.html
http://www.fox10tv.com/clip/14159257/the-gulf-coasts-own-starla-chapman-wins-ihop-pancake-contest